Thursday Jan 12, 2023
31. How product teams can deliver maximum benefit to their users - Conversations @ UXDX 2022, Dublin - Part 2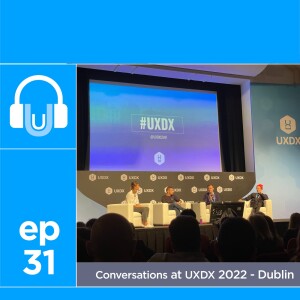 In the second episode recorded in-person at UXDX 2022 in Dublin, I chat in depth with six conference attendees from a broad spectrum of organisations to get them to reflect on the event, and hear more about why they came and what they will take away from it. We also discuss the challenges and opportunities they face in their own companies, and consider what in their view the future holds for User Experience as a discipline. 
Within this short episode there isn't time to cover all the great talks and sessions at UXDX 2022, but it will give you a flavour of what was on offer and what those who attended took away from the event.
Many thanks to my guests:
Vanessa Sauer from Booking.com
Mike Brown from Reed
Duaa Gettani from Square
Noah Levin from Figma
Ashley May from Trainline
Thanks for listening, and enjoy the episode.  
This podcast is brought to you by Researchable UX.
If you'd like to help support the podcast, you can donate a very modest sum by buying me a virtual coffee. That would be hugely appreciated. Thank you!